Proedit Addon
Version 1.0

---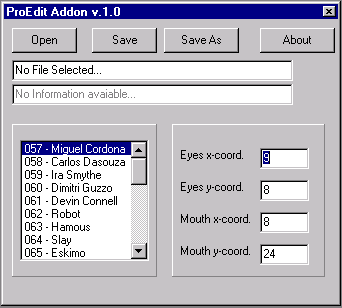 ---
Description

If you have been working with ProEdit you might have noticed, that you cannot edit the coordinates for eyes and mouth movement of the RPCs' normal faces. With this little tool you can change the coordinates of all the RPCs and some more characters now.
Please refer to the readme for a more detailed description.

---

Disclaimer

The author won't take responsibility for any damage or harm caused by this program.
This program is freeware. You may copy it as long as the files of this package remain intact and unmodified and are distributed together.

---

Download

ProEdit Addon Version 1.0 (Created on 19. September 2002)

---
Supported Versions
JA2 v.1.02 german
JA2 v.1.02 beta german
JA2 v.1.05 german
JA2 v.0.95 german beta
JA2 v.1.06 us
JA2 v.1.07 us
JA2 Unfinished Business v.1.01 us
---

Credits

Author: Azrael



---