Description
Disclaimer
Download
Requirements
Instructions
Credits
Jagged Alliance 2 Strategic Map Editor
Version 1.2

---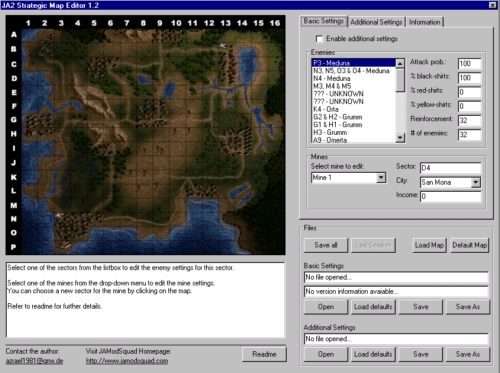 ---
Description

This program will allow you to make changes to several parts of the strategic map of JA2. It will let you change the enemy population, the travel times between sectors and income and position of mines.
Please refer to the readme for a more detailed description.

---

Disclaimer

This program is freeware. You may copy it as long as all files remain intact and unmodified and are distributed together.
The author won't take responsibility for any damage or harm caused by this program.

---

Download

JA2SME Version 1.2 (Created on 26. January 2003)

---

Requirements

JA2SME supports the following version of JA2:
v.1.02 german
v.1.05 german
v.1.06 us
v.1.07 us
v.0.95 german beta
v.1.12 us (Gold Edition)
---

Instructions

Just extract the files of the zip archive to a directory of your choice. It is recommended to use your JA2 directory, because in this case JA2SME will automatically load your image of the strategic map.
JA2SME is supposed to be part of Batman's Desktop Editor Pack. If you want to replace an older version of JA2SME that came with the Desktop Editor, just extract the zip to the directory where you installed the Desktop Editor and overwrite the existing files.

Please refer to the readme, that comes with JA2SME, before you start working.

---

Credits

Author: Azrael

Thanks to Bimbo and Emrep for their research and support.
This program was created during the development of the JA2 Mod Urban Chaos.
Additional thanks go out to the whole ModSquad and all the UC Beta testers, that checked the functionality of this program by working on Urban Chaos.

---