Editing the ranges of the SAM sites

1. The offsets in different versions of JA2.EXE

| | |
| --- | --- |
| JA2 version | Offset |
| german v.1.02 | 0x272303 |
| german v.1.02 beta | 0x2732db |
| german v.1.05 | 0x26211b |
| us v.1.06 | 0x27b6c3 |
| us v.1.07 | 0x27b6db |
2. Editing the ranges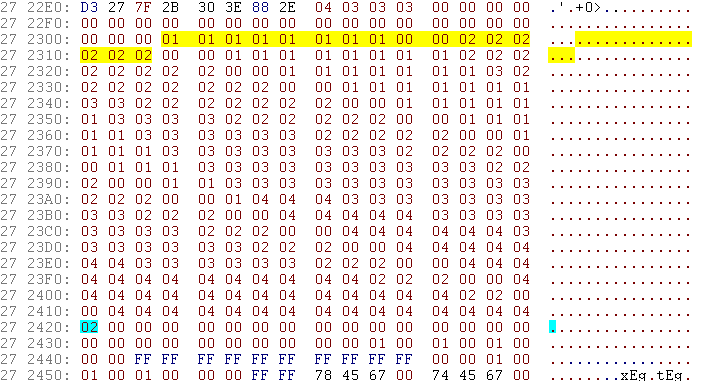 The information which sector is protected by the different sam sites is stored in an array.
The first 16 bytes hold the information about the sectors A1-A16 (marked in yellow). The end of the first row is marked by 00 00. After that there are again 16 bytes for the second row of the map (B1-B16), then again 00 00 to separate the second and third row...
The last byte for sector P16 is marked in blue.
Each byte has a value between 00 and 04, which specifies the sam site.

| | |
| --- | --- |
| Value | Sam Site |
| 00 | none (sector is always secure) |
| 01 | Chitzena SAM (sector D2) |
| 02 | Drassen SAM (D15) |
| 03 | Cambria SAM (I8) |
| 04 | Meduna SAM (N4) |
| | |
by Azrael
MODSQUAD